If you love salmon but have avoided it in recent years, you'll be excited about this Wild Salmon & Veggie Casserole Recipe. The key to eating salmon without worry is to be careful with your sourcing and to follow this recipe which takes advantage of all the wonderful flavors without the richness of typical recipes.
Have you been worried about eating salmon due to reports of contamination? It is true that farmed salmon has a higher risk of containing contaminants, particularly PCBs. Farmed salmon also contains lower levels of healthy omega-3 fats, due to them being fed higher grain diets rather than what they would feed on in the wild. For these reasons, avoiding farmed salmon helps to overcome the majority of the contamination worries.
When selecting salmon, it's best to choose wild caught Alaskan or sockeye salmon, according to Dr. Mercola, to minimize exposure to other contamination. These types of salmon have a shorter lifespan, just 3 years, which keeps to a minimum the amount of contaminated fish they have eaten. Eating canned salmon to save money is also possible, as long as you look for these types of salmon.
The health benefits of salmon are mostly due to it's high level of omega-3 fats, both DHA and EPA. No other food has such a high concentration. Flaxseeds and walnuts have high levels of omega-3s but don't contain DHA and EPA. The health benefits are mostly due to the anti-inflammatory capacity of omega-3. These range from cardiovascular benefits, improved mood and cognition, joint protection, eye benefits, immune boosting and decreased cancer risk, according to World's Healthiest Foods.
The added anti-inflammatory properties of selenium, a mineral that salmon contains 62% of the daily value of, makes well-sourced salmon a powerhouse of inflammation reducers!
Click here for printable recipe!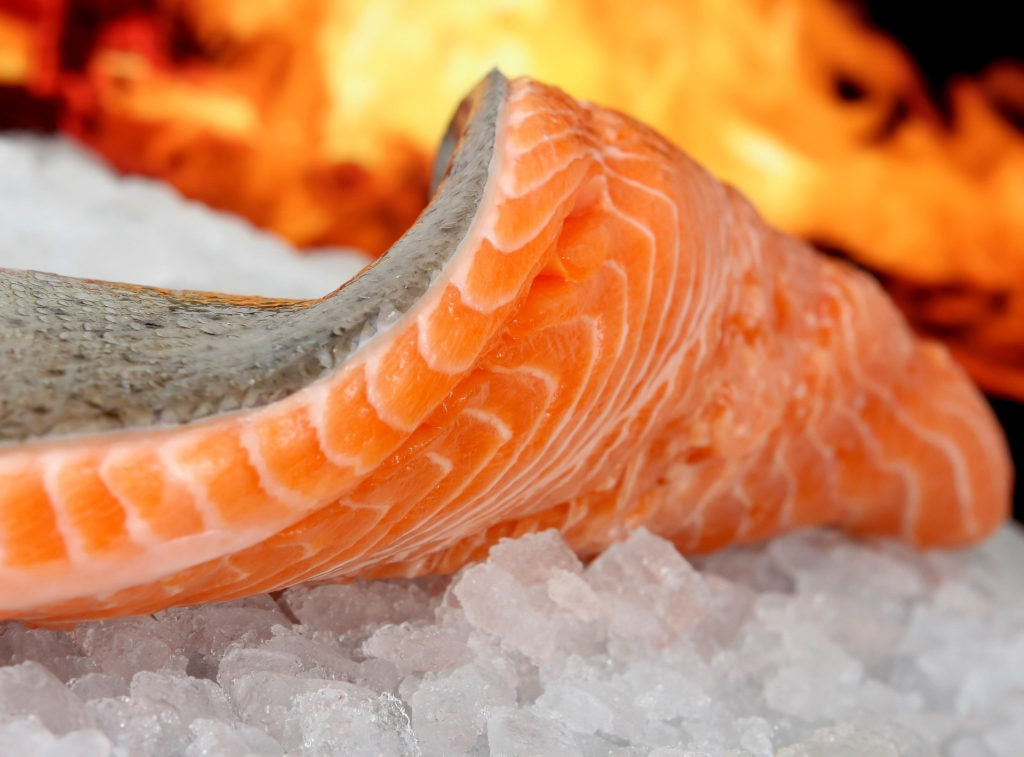 Wild Salmon & Veggie Casserole
Ingredients
1 Cup chopped zucchini
1 Cup chopped leek
1 Cup cooked sweet potatoes
½ Cup sweetcorn
2 Tbsp fresh chopped chives
2 Tbsp fresh dill
1 Tsp Dijon mustard
8 Ounces of wild Alaskan or sockeye salmon
6 pastured-raised eggs
½ Cup crumbled feta (optional)
2 Tbs grass fed butter
Method
Melt the butter in a pan on low to medium heat. Add in the zucchini and leek and gently sauté for about 5 minutes.
While these are cooking, crack your eggs into a bowl and whisk with sea salt, black pepper and mustard.
Prepare a deep casserole dish by rubbing some grass-fed butter around the bottom and edges.
Add in the sautéed vegetables, sweet potatoes, sweetcorn, flaked cooked salmon and feta cheese. Sprinkle each herb separately and give it a gentle stir.
Pour in the egg mixture and give another gentle stir to allow the egg to combine with the other ingredients.
Place in an oven at 350 F for about 30 minutes.
Enjoy!
Click here for printable recipe!
Related Articles
How to Boost Your Immune System
Anti-inflammatory Coffee Drink Recipe
Mexican Quinoa Bowl – Healthy Quinoa Recipe
Get Rid of Stress –  Natural Stress Relief Techniques