Summer is a marvelous time of year. It's the perfect time to go out and have some fun. However, you also need to take care of your skin. Here are 5 skincare tips to keep your skin healthy during the hot summer.
Summer means time for outdoor fun and some sun exposure is important for your body to produce vitamin D, but just be careful not to remain in the sun longer than you should. Too much outdoor fun is also harsh on your skin. When you are enjoying yourself outside by the pool or beach, it's easy to neglect your skin. Below we have 5 skincare tips. We will discuss 5 ways to protect your skin while having fun in the sun.
1. Stay Hydrated:
Summer heat and more time outdoors tend to rob moisture from our skin, and leads to dehydration. Dehydration is bad for your health. It can cause headaches, dizziness, and lead to many other diseases. Drink plenty of water, and always carry a water bottle with cold water with you. Also, apply moisturizers on your skin.
2. Apply sunscreen:
Most people do not apply sunscreen as much as they should. Apply enough sunscreen, apply again if needed, especially if you plan to stay outside for a long time, and be sure to use a natural sunscreen without harmful chemicals. Sun's harmful ultraviolet rays can cause skin cancer if you are exposed for a long time, particularly during peak sun hours. For a day at the beach, apply sunscreen with a higher SPF value, all over your body.
3. Avoid direct sunlight:
Try to stay in the shade as much as possible, especially during the hours when the sun rays are directly over your head. Wear a hat, shades, and long protective clothes if possible. Try to stay in a shaded area for most of the time between 12:00 PM to 3:00 PM during a hot day.
4. Repair your sun damaged skin:
Staying outside in the sun may give you a suntan, but it also damages your skin if overdone. Damaged skin gets wrinkles and spots easily, and makes you look older. To repair damaged skin, use a scrub and cleanse your skin, apply a night cream or moisturizing lotions, eat healthy foods including healthy oils and live a healthy lifestyle.  
5. Exfoliate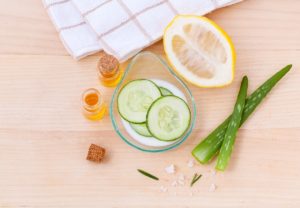 Dead and damaged skin cells can pile up on your skin over time and clog up your skin pores. With proper skincare you can achieve smoother,healthier skin. Your skin produces new cells faster than it can get rid of them. It also takes out toxins from your body through sweat. Blocking these pores will cause your skin to look dull, rough, dry, uneven, and unhealthy. Unhealthy skin can lead to acne or blemishes. Exfoliating your skin will cleanse and remove dead cells and dirt, acid buildup, and residue left behind from your makeup.
Conclusion:
So, to sum it all up, summer is the time to take extra care of your skin. Keep your skin healthy by protecting it against sun damage. Drink plenty of water, use a good sun blocker when spending prolonged time in peak sun hours, and cleanse your skin with a skin cleanser. Keep your skin healthy, nourished and moisturizer regularly with lotions, a healthy diet with fruits and vegetables and healthy oils, and a  healthy lifestyle. And, don't forget to apply and re-apply a good sun blocker, when necessary.
Hope you'll have a fun filled summer this year. Remember that dehydration can cause premature aging and stress to your immune system.  For more tips for boosting your immune system to best fight diseases, read our complete guide: The Secrets to Immune System Recovery (Click here to download our Fee eBook now!) To learn more about alternative health concepts, join us on our upcoming live webinars!
P.S: We'd love to hear from you, so please add your comments in the comment box below or visit our Facebook page.
Source: Alternative Health Concepts
Related articles and resources: