If you're looking for a wholesome yet filling meal that is packed with flavors, try our healthy quinoa recipe. If you've been searching for a versatile food which can replace many less healthy carbohydrates, is packed full of nutrients and can be flavored in so many different ways, quinoa is the perfect food!
Are some of you saying … what is that strange word? Or perhaps you're already familiar with this superfood. You may have heard that this ancient grain originated in Peru, Chile and Bolivia and was a food staple until cereals were introduced by Spanish settlers.
It's not difficult to see how it was a staple food in their diets, as quinoa is high in protein, contains all amino acids and has an impressive list of vitamins and minerals such as magnesium, iron and zinc. More recently, it has grown in popularity for those of us who are on gluten free diets. Among the dozens of health benefits of quinoa are that they contain antioxidants, help prevent kidney stones and have a low glycemic index, making them ideal for those with blood sugar issues.
One of the reasons I love this healthy quinoa recipe, is that it doesn't offer just this one delicious dish with a Mexican twist, but also provides a template for creating many different variations by simply using different spices, herbs and vegetables. You may also choose to use it in place of rice in many meat dishes to reap the high nutrient value of this healthy quinoa recipe.
Click here for printable version of recipe!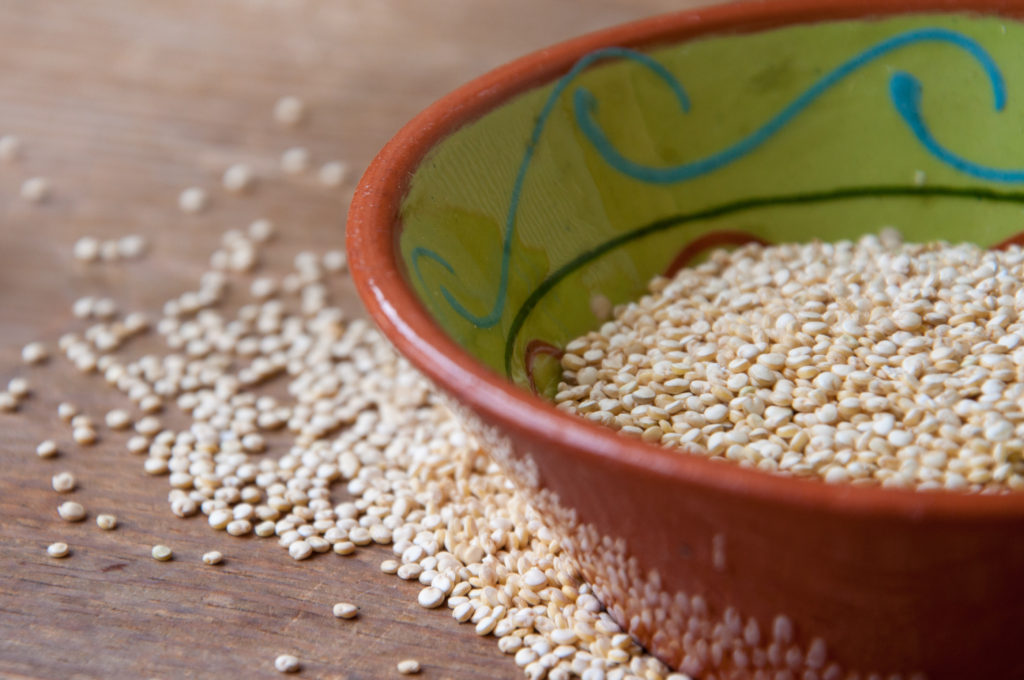 Healthy Quinoa Recipe
Ingredients
1 cup quinoa
1 stock cube
1 small lime
Bunch cilantro
½ each of a red and green pepper
½ red onion
Cooked black beans
1 chopped fresh tomato
1 crushed avocado
Small handful shredded cheese (optional)
Fresh salsa
Method
Cook the quinoa according to the package and include the stock cube dissolved in the water while cooking (about 1 cube to 1 cup of quinoa). When it is done cooking and almost cool, drizzle the lime and stir around the quinoa and toss in the chopped cilantro.
Chop the red and green peppers, red onion and toss the raw pieces into the prepared quinoa. Or, if you prefer, lightly grill or saute the peppers and onions.
Top with beans, spoonful of mashed avocado, chopped tomatoes and drizzle salsa and shredded cheese over the top.
Tips: You may use the basic prepared quinoa with a stock cube as a base for many other dishes, for example, using soy sauce in place of the lime juice and using stir-fried vegetables for a more Asian-style dish. Use your imagination and adapt this recipe for Cajun style, Italian, spicy pork, curry chicken… your only limitation is your imagination!
Click here for printable version of recipe!
Source: Saving the Green
Related Articles
Healthy Oat Muffins
6 Ways to Stay Healthy While Traveling
5 Foods that Help You Sleep Well at Night