Fall cooking for many of us includes distinctive and seasonal flavors that are a welcome change from summer salads and barbeques.
It's also a great time to give your health a boost with some healthy, home-cooked meals full of fall flavors!
Fall is right around the corner. You may have already noticed that the days are getting just a little bit shorter, the sun is rising a little later and setting a bit earlier. As temperatures drop and season changes, you need to be extra careful to take care of your health a little bit more.
When you are trying to adjust to the changing climate, your immune system can be more vulnerable to disease.
The good news is that you are able to strengthen your immune system and fight most common diseases before fall arrives. Some seasonal fruits and vegetables are loaded with natural goodness to help you fight diseases naturally.
A healthy diet is always an important consideration, but immune system supplements are also key for maintaining a robust immune system.
Let's talk about some healthy meal ideas that have all the natural ingredients to boost your immune system, improve your physique and overall health to fight diseases and stay well during the fall.
Boost your health with Healthy Bean & Chili soup
Black beans are a comforting food and full of natural goodness. WebMd recommends eating at least 3 cups of beans each week.
Immune fighting properties of beans & chili: Beans, garlic, and chili in this recipe are rich in protein, iron, folic acid, fiber, and potassium. Apart from heating up your body, chili peppers are also loaded with vitamins & minerals, such as vitamin C, A and B-6, copper, iron, and more, that have disease preventing and health promoting properties. Garlic is known to lower blood pressure, boost your immune system and fight disease. [8 Steps for Healthy Living in Fall]
Ingredients:
   1 pound dried black beans (2 cups) or tinned beans
   2 tablespoons extra-virgin olive oil
   2 medium onions, finely chopped, 1/3 cup reserved for garnish
   1 red bell pepper, finely chopped
   2 large stalks celery, chopped
   1 jalapeño pepper, seeded and finely chopped
   3 large cloves garlic, minced
   1 tablespoon ground cumin
   4 cups water
   2 cups brewed organic coffee
   1 ham hock (optional)
   1 bay leaf
   1 teaspoon sea salt, plus more if needed
   6 tablespoons of plain Greek yogurt for garnish
   Chopped fresh cilantro for garnish
Preparation:
Rinse beans well. Place in a large bowl with cold water to cover by 2 inches. Let soak for at least 6 hours or overnight. If you can manage it, soak them the night before, drain in the morning and soak again all day before you cook. Or, if you're in a rush, use tinned beans.
Heat oil in a soup pot or Dutch oven over medium-high heat, add all but 1/3 cup of the onions, bell pepper, celery, jalapeño and garlic and cook, stirring frequently until the vegetables are beginning to brown, 5 to 8 minutes.
Add cumin and cook, stirring, 1 minute more.
Add the beans (if using dried), water, coffee, ham hock (if using) and bay leaf; cover and bring to a boil, stirring occasionally. Skim off any foam that rises to the top, reduce the heat, cover and simmer until the beans are very tender, 1 1/4 to 1 1/2 hours. If using tinned beans, cook for only a 1/2 hour after adding the beans.
If using, remove the ham hock and set it aside to cool; remove the bay leaf. Stir in sea salt.
Puree about half of the soup in a blender or food processor until fairly smooth. (Use caution when pureeing hot liquids.) Return the pureed soup to the pot and heat through. If desired, cut meat off the ham hock, trim away any fat and chop the meat into small pieces; stir back into the soup.
Serve the soup garnished with the reserved chopped onion, a dollop of yogurt and cilantro if desired.
(Recipe credits: Smoky Black Bean Soup Recipe – EatingWell)
Greek Chicken & Vegetable Ragout Recipe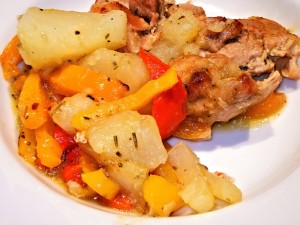 Chicken is a great source of low-fat, lean protein that gives you strength and energy. It also has other nutrients that fight disease, especially when slow cooked with healthy vegetables.
Immune boosting ingredients: Carrots, potatoes, garlic, lemon juice and dill in this recipe make this a super healthy, immune boosting dish. These ingredients are rich in antioxidants, vitamin A, C, K, Folate, Niacin, Pantothenic acid, beta-carotene, falcarinol, calcium, iron, and dietary fiber. These boost the immune system, improve overall health and fight disease naturally. [Carrots nutrition facts and health benefits]
Ingredients:
   1 pound carrots, cut into 1 1/4-inch pieces, or 3 cups baby carrots
   1 pound (3-4 medium) yellow-fleshed potatoes, such as Yukon Gold, peeled and cut lengthwise into 1 1/4-inch-wide wedges
   2 pounds boneless, skinless chicken thighs, trimmed
   1 14-ounce of organic reduced-sodium chicken or veg broth
   1/3 cup dry white wine (optional)
   4 cloves garlic, minced
   3/4 teaspoon salt
   1 15-ounce jar artichoke hearts, rinsed and quartered (if large)
   1 large egg
   2 large egg yolks
   1/3 cup lemon juice
   1/3 cup chopped fresh dill
   Freshly ground pepper to taste
Preparation:
Spread carrots and potatoes over the bottom and up the sides of a 4-quart or larger slow cooker. Arrange chicken on top of the vegetables. Bring broth, wine, garlic and salt to a simmer in a medium saucepan over medium-high heat. Once simmering, pour this liquid over the chicken and vegetables. Cover and cook until the chicken is cooked through and vegetables are tender, 2 1/2 to 3 hours on high or 4 to 4 1/2 hours on low.
Add artichokes to the slow cooker, cover and cook on high for 5 minutes. Meanwhile, whisk egg, egg yolks and lemon juice in a medium bowl. Transfer the chicken and vegetables to a serving bowl using a slotted spoon. Cover and keep warm.
Ladle about 1/2 cup of the cooking liquid into the egg mixture. Whisk until smooth. Whisk the egg mixture into the remaining cooking liquid in the slow cooker. Cover and cook, whisking 2 or 3 times, until slightly thickened and sauce reaches 160°F on an instant-read thermometer, approximately 15 to 20 minutes. Stir in dill and pepper. Pour the sauce over the chicken and vegetables and serve.
Hope you will enjoy these healthy meals at home. Take some time to cook a delicious healthy meal for your family this fall, and your whole family will enjoy a better, healthier season this fall. Enjoy!
Don't forget to boost your immune system. Seasonal colds and flu cannot manifest themselves, if your immune system is working properly. Your body is designed as a perfect disease-fighting machine. CLICK HERE TO FIND OUT HOW TO RESTORE YOUR IMMUNE SYSTEM TO BE A DISEASE-FIGHTING MACHINE!
Related articles and resources: