There are so many healthy soups and drinks to help you feel better when you're ill, but there is still something so comforting about classic chicken soup. We have a great recipe for you that takes in all the nostalgic flavors of your Grandmother's chicken soup but with a few additional healing ingredients.
We know that when you aren't feeling well, your taste buds are far from adventurous! This recipe allows you to make one strong batch of healing and nourishing soup which may be adjusted to your taste and hopefully have you drinking it a bit stronger each time.
All of these ingredients have healing properties of their own, as we've talked before about bone broth, carrots and ginger. They all have powerful anti-inflammatory components which help to boost your immune system and fight that bug you have!
But, what about garlic? According to Dr. Axe, garlic is powerful in preventing and treating cardiovascular and metabolic diseases, some cancers particularly pancreatic cancer, high blood pressure, colds and infections, hair loss, Alzheimer's Disease and Dementia, diabetes and more.
While garlic ranks as an excellent source of manganese and vitamin B6, a very good source of vitamin C and copper, and a good source of selenium, phosphorus, vitamin B1, and calcium in our WHFoods rating system, it is the sulfur compounds in garlic that serve as its spotlight nutrients in terms of overall health benefits. The sulfur-containing compounds in this allium vegetable have been shown to provide us with health advantages in a wide variety of body systems, including: our cardiovascular system, immune system, inflammatory system, digestive system, endocrine system, and detoxification system. World's Healthiest Foods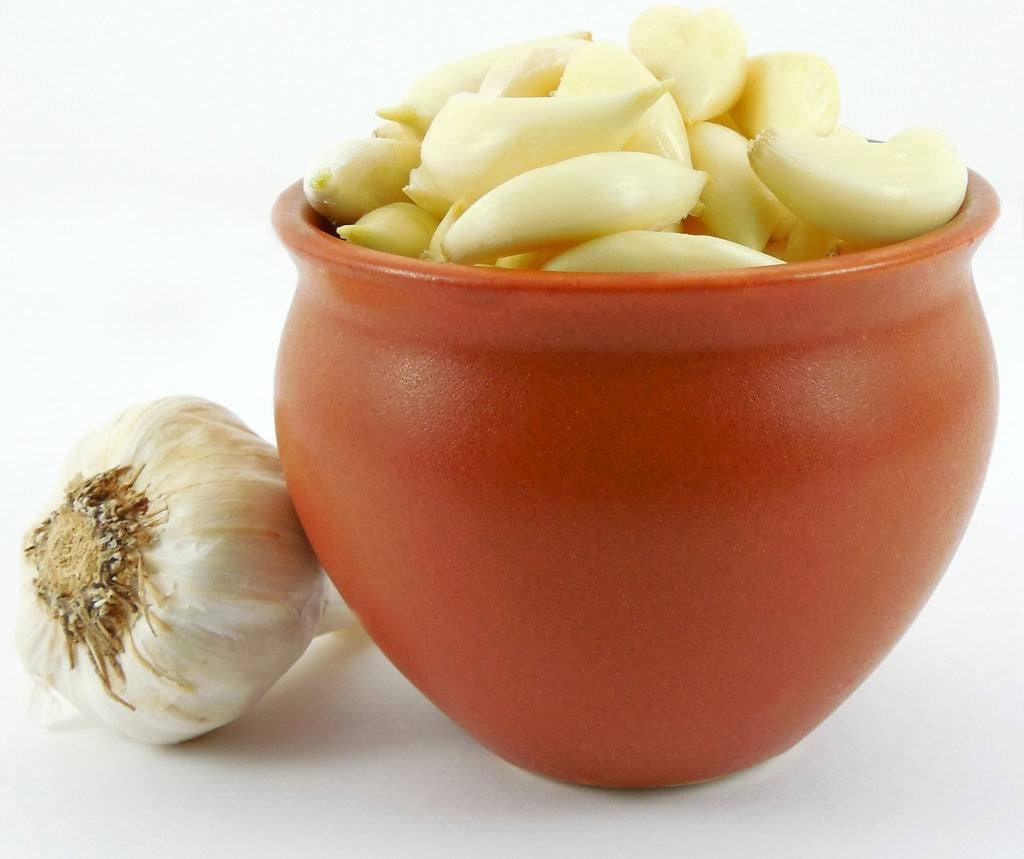 Classic Chicken Soup Recipe with a Twist
Ingredients
1 Large thumb of fresh ginger (about 2 inches)
3 Cloves of garlic, peeled and quartered
1 Medium onion, quartered
3 Carrots, chopped
6 Cups bone broth
Sea salt & pepper to taste
2 Scallions, chopped (optional)
1 Small handful of beansprouts (optional)
Method
Add bone broth, ginger, garlic and onion to a large heavy-duty cooking pot.
Bring the heat up to medium/ low to allow the ingredients to simmer, but not boil. Stir occasionally and heat for about 1 hour.
Add carrots and cook for an additional 20 minutes or until they are tender but not mushy.
With a sieve or slotted ladle, remove the garlic, ginger and onion pieces.
Pour a portion into a bowl or cup and top with fresh-cut scallions and/ or fresh bean sprouts.
If the mixture is too strong, add more bone broth to dilute the flavors. Try to consume a cup several times per day, increasing the concentration each time.
Enjoy!
Related Articles
How to Boost Your Immune System
Immune Boosting Garlic & Ginger Soup