Not many foods can be considered as both breakfast and dinner… cold and freshly baked… sweet and savory… a meal and healthy snack.
What about crepes?
They are the healthier cousins of pancakes and this easy-to-make dish has been popular throughout generations. Rare are the people who can resist them!
What is so good about them?
One of the reasons this healthy snack is so popular, is that crepes are fairly easy to make. They literary can be made of just 4 ingredients that everyone has at home. Basically, anyone who has flour, salt, sugar, and water can make them, but those probably would be a bit less tasty and not as much a healthy snack as the ones we have in mind.
Today we are looking for something that will kick-start our senses and incorporate a lot of healthy nutrients.
One important thing to keep in mind is – you can use any kind of ingredients as a filling. Crepes are mostly used with a sweet spread, but you can include lean meat, fruits, vegetables and various sauces as well. Some fast food sellers use them as a wrap for kebabs…but today we opted for crepes with flour and oats, with berries as a filling.
What makes berries part of a healthy snack?
First of all, let's see what berries we have in mind…
In order to get a lot of good and healthy nutrients, create a healthy snack we can easily bring with us and eat anytime and anywhere we need strawberries, blackberries, black and red currants, raspberries and blueberries.
Why these berries?
Strawberries are very potent in total antioxidant capacity. Being rich in vitamin C, polyphenol antioxidants, including phenolic acids, flavonoids, tannins, lignans, and stilbenes we can see where their anti-oxidative potency comes from. They are a great source of manganese, phosphorus, potassium, copper, biotin, vitamin B6, magnesium and omega-3 fats. Studies point out the cardiovascular benefits as well so it is no surprise that the website www.whfoods.com ranks them as the 5th best when it comes to a source of vitamin C.
Blackberries – you can't go wrong with wearing black right? The same goes for blackberries. They are loaded with vitamin C, vitamins E, A, K, and B vitamins as well as free-radical-hunting antioxidants like zeaxanthin and lutein, thus preventing chronic diseases and aging. They are quite resourceful when it comes to minerals – copper, potassium, magnesium, manganese, pantothenic acid, pyridoxine, niacin, riboflavin and folic acid.
Black and red currants are heavyweights in the health department. They are also very rich in vitamin C, with 100 grams giving you more than the daily recommended amount of vitamin C. They are also packed with B vitamins, pantothenic acid, pyridoxine and thiamin. One of the main and most well-known minerals in black and red currants is iron. They also contain calcium copper, phosphorus, magnesium, manganese and potassium. Antioxidants like anthocyanin, beta-carotene, zeaxanthin, lycopene and cryptoxanthin help other ingredients prevent heart disease, slow the aging process, reduce cancer risk and fight inflammation.
Raspberries are extremely rich in antioxidants and they contain over 20 phytonutrients! They protect us from oxidative stress, inflammation and chronic diseases like obesity, type-2 diabetes, hypertension and atherosclerosis. Recent studies show the relationship between raspberries and their ability to affect the development of cancers of the breast, esophagus, cervix, colon and prostate.
Blueberries are well known for their strong taste and aroma. But they also have one particular phytonutrient – resveratrol, which is also found in the skin of grapes and thus in red wine. The website www.medicalnewstoday.com talks about blueberries having not only anti-oxidative and anti-inflammatory roles in our bodies but they also have neuroprotective, cardioprotective, antidiabetic and anti-cancer properties. Beside resveratrol, they have 17 other phytonutrients which improve our health.
Now we see why this healthy snack has all the ingredients of an immune system boosting food!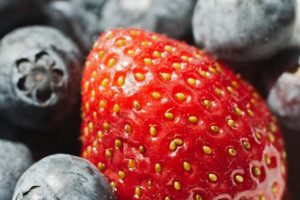 But we still need…
The crepes.
For our healthy crepes, we need just a few ingredients. In order to make them healthy, we are using whole-wheat flour, quick oats, whole milk (or healthy milk substitute), eggs, honey, sea salt and coconut oil. Using a blender makes mixing easier, but it is not essential.
Add to your blender:
1 cup of oats
1 cup of whole-wheat flour
2 eggs
1 1/4 cup of milk
1 tsp sea salt
1 tsp of honey
Process them in the blender until they are fairly smooth.
Add 3 tablespoons of coconut oil to a heated pan (low profile ceramic are best if possible) and allow it to melt. Tip the pan to evenly coat the entire surface and then drizzle the remaining oil into the crepe mixture while stirring.
Do not over-heat your pan, medium heat is just enough in order to spread the liquid dough evenly. Pour the dough in the amount to cover half of the pan and circle and tilt the pan in order to spread it. Cook it for an about 2 minutes, until the edges start to pull away from the pan and then flip it. The other side needs only half the  time to be cooked.
When the crepes are done, you can either put berries in the blender and mix them or use them whole (or a mixture or both).
Place them on the crepes, add a teaspoon of honey over them, fold them twice and you have your healthy snack for boosting immune health.
In addition to this recipe, you can use savory items like roasted veggies, chicken, salad and hummus, etc…
Making crepes requires a bit of skill but they are easy and a fun to make. Take your time to master it so you can make them thin and light as air, or thick and full of taste…and of course, flip them in the air…that is the real fun…just avoid the ceiling.
Related Articles