What's this we keep hearing about bone broth?
Quite simply, it's the stock you can make with the left-over bones, following a roast chicken dinner. You may have seen your mother or grandmother making soup this way, as bone broth isn't some recent discovery, but a method that has been used for many years to create the tasty base for soups, gravies, casseroles and more.
Once you have enjoyed your Sunday roast chicken dinner, and used all that you can for a second meal and scraps for sandwiches…
You can also make further use of the bones!
By cooking the bones in water over a long period of time, and adding onions, roots vegetables and herbs, all of the goodness is infused into the broth. Nutrients such as calcium for strong bones, amino acids for healthy muscle tone and collagen for vibrant skin are all ways to "turn back the clock" on aging, according to Barbara Mendez, Nutritionist and Registered Pharmacist,
"Look and feel healthy, vibrant and energized, reduce joint inflammation, improve immune function, strengthen bones, hair, and nails, while nourishing your skin."
10 Health Benefits of Bone Broth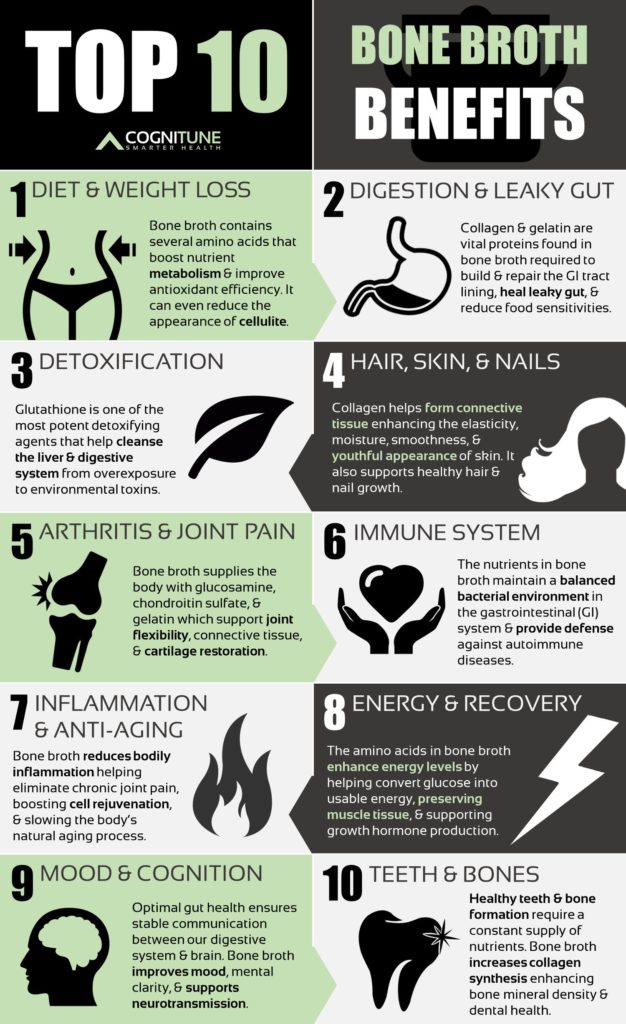 Infographic kindly provided by our friends at Cognitune.com. Click for more information on the benefits of bone broth.
Bone Broth Recipe
Ingredients
1 cooked chicken, with meat removed
2 carrots roughly chopped
2 stalks of celery roughly chopped
½ onion cut in large pieces
1 pinch of sage
1 small bunch fresh parsley
1 pinch of sea salt
Method
Place the chicken bones in a crock pot and cover with water. Cook on low setting for 24 hours, checking at intervals to see if water needs to be topped up.
When there are about 3 hours left to the cooking time, add all of the additional ingredients to the crock pot, apart from the parsley. Cook 2 ½ more hours. Add the parsley in at this point and allow to finish cooking.
Cool the crockpot and then sieve out all the ingredients, saving the liquid as your fresh stock. Decant into several containers and freeze any that you won't use within 3 days.
Keep on-hand to add to any dish which needs stock and enjoy all the health benefits!
Click here to download printable version
Related Articles
Learn How to Boost Your Immune System
Minestrone Soup – Healthy Grain Free Recipe
Tasty Fermented Apple Cider Vinegar Drink