Eggs have their special place in human nutrition. Actually, that place more resembles the spotlight, and that spotlight is well-deserved. Therefore, we should include them in our diets on a regular basis and here are 3 healthy egg recipes to get you started.
Eggs have been around for quite a long time. To answer the age-old question – yes, the egg did come before the chicken! There are many types of eggs that are suitable for human nutrition but we will focus here on chicken eggs, as those are by far the most available and inexpensive.
Eggs have always been highly desired as food, not only by humans of course. Many species will gladly eat eggs if they can get them. Why is that? Because eggs are the most nutritious food there is.
Egg nutrition
Eggs are made to support life and contain all the nutrients the life developing inside the eggshell will need. Therefore it has high nutritional values. Let's take a look at what is underneath the eggshell.
There is egg white, or albumen, which is consisted of water and pure protein. Proteins consist of amino acids which are the building blocks of life. The proteins of the human body are made of different combinations of 20 amino acids.Eggs have 18 of these amino acids, among which are all 9 essential amino acids. The egg is, therefore, number 1 when it comes to protein value. Actually, eggs are such good sources of protein that all other sources are compared to eggs.
The rest of the egg is the yolk. Opinions on the nutritional value of egg yolk has been going back and forth over the years due to it containing cholesterol. But many recent studies have shown that blaming eggs for high blood cholesterol was incorrect. According to www.medicalnewstoday.com, there are many other factors that affect cholesterol levels, while egg yolk actually has a greater contribution to health. Aside from the proteins, the yolk is a source of vitamins, minerals and lipids. The mineral profile of the yolk looks like this – iron, phosphorous, calcium, thiamine, zinc, B6, B12, folate, and pantothenic acid. Regarding vitamins, there are A, D, E, and K.
Benefits of healthy egg recipes
As mentioned above, eggs are rich in protein, vitamins, minerals and lipids. So basically, in healthy eggs recipes, we have everything we need.
Some examples of how eggs affect our health, they:
Contain lutein and zeaxanthin-antioxidants with health befits for our eyes
Reduce the risk of heart disease according to this study
Are an excellent source of nutrients during restricted nutrition
Raise good cholesterol
Improve bone density
Promote healthy metabolism
Improve the growth of cells
Increase absorption of nutrients
Improve brain development
Reduce inflammation
Now that we have seen what eggs can do for us, let's check out some healthy eggs recipes.
The great thing about eggs is their versatility. Eggs are the new black! They go with everything.
Let's start with something easy and build up to more demanding healthy eggs recipes.
Get the printable recipes by clicking here.
Egg & Tuna Salad
For a healthy, fresh and tasty egg & tuna salad we need…well, eggs and tuna obviously.
Ingredients
Canned tuna in olive oil, or brine
Lettuce
Cherry tomatoes
Red onions
Bread croutons
Olive oil
Lemon
The eggs will give us protein, minerals, vitamins, and fats since we will be using the whole eggs. There are many benefits of vegetables but let's mention a few. Lettuce will provide us with magnesium, phosphorus, calcium, sodium, iron, zinc, and potassium, and vitamins like riboflavin, thiamin, folate, niacin, vitamin A, B6, C, E and vitamin K. Lettuce protects brain neuronal cells, fights inflammation, lowers cholesterol and adds fiber, among other things.
Tuna comes with omega-3 fatty acids, potassium, magnesium, iron, vitamin A, B6 and B12. Tuna is excellent for heart health. It lowers blood pressure, improves the immune system and bone health, and of course adds protein and energy.
Cherry tomatoes are just a smaller version of full-size tomatoes, and it has vitamins A and C. It is also a good source of potassium and vitamin K, while onions contain folic acid, vitamin B and fiber.
Bread croutons, either fresh or baked, add some carbohydrates to this healthy eggs recipe.
Method
So, take 2 eggs and hard boil them. While those are cooking, wash the vegetables and drain the tuna from oil or brine. Chop the onions and tomatoes while keeping the lettuce at the size of individual leaves.
Put vegetables in the bowl, add one tablespoon of olive oil and fresh lemon juice from half of the lemon. Peel off the other half, and chop it into small pieces.
When the eggs are boiled, cut them in half, and again those halves, just don't forget to get rid of the shell. Add them to the prepared bowl with vegetables, add croutons and chopped pieces of the other half of the lemon.
And there you have the first of our healthy egg recipes. You can eat it right away, or you can let it cool, pack it and have it later as a healthy snack.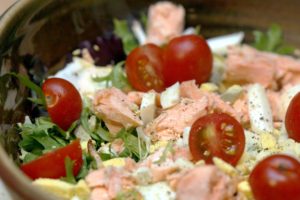 Omelet with chicken breast and corn
Ingredients
3 eggs
5-7 ounces of chicken breast
Fresh or thawed frozen corn
A bit of grated parmesan
Method
Heat up the pan with 2 tablespoons of grass fed butter. Cut the chicken breast in small pieces and fry them for 5-7 minutes. Small pieces of chicken breast will cook pretty fast, so stir them frequently. Meanwhile, break the eggs, put them in the bowl, add a bit of salt and mix them. Add the eggs to the pan and stir it until you get a nice mixture of meat and eggs. Turn down the heat and let the mixture bake into a smooth and even frittata.
Add the corn to one half of the frittata, while it is still in the pan, and add parmesan until it well covers the corn. Flip the other side of the frittata over the corn and parmesan side, and take it to the plate.
Let it sit for a minute or two so the heat of the eggs and meat can melt the cheese, and the meal is ready.
Becar Stew
This takes around 30-45 minutes to prepare but it so worth it.
Ingredients
2 tomatoes
2 red peppers
1 large onion
7 ounces of cottage cheese
3 whole eggs
3-4 tablespoons of grass-fed butter
A teaspoon of sea salt
Method
Heat the butter in a deep frying pan. While the butter is melting, chop 1 large onion into very small pieces and add it to the butter. Slowly stir and sauté until it turns translucent. To slow down the process and cool the pan, add a bit of water. Not too much, but not too little that it will make the hot butter spray. Add just enough to cover the onions. Meanwhile, wash the vegetables.
Now, chop the tomatoes into small cubes, add to the onions and stir occasionally. Again, add some water if needed. We need tomatoes to be fully cooked and softened. It takes around 10-12 minutes at medium heat to get to that stage.
Now cut the peppers into circles, and those circles to halves and add to the tomato and onion mixture. Again, cook it for 10-15 minutes or until the peppers are fully cooked.
At this point, we should have a nice an even mixture of onions, tomatoes and peppers.
Break the eggs, add them directly to the pan and start stirring immediately. Next, add the cottage cheese while stirring, until the eggs are well mixed with cheese and vegetables.
Add a bit of sea salt, fresh black pepper, parsley, or any other spice you like.
Get the printable recipes by clicking here.
That concludes our 3 health egg recipes which are great either as a meal or as a snack. Whether you eat them immediately or save them for later, the main thing is that we get a lot of healthy nutrients from every ingredient we use.
These are excellent for our metabolism, heart, skin, eyes, and bones health. They fight off free radicals and improve our immune system. To put it simply, these healthy egg recipes improve our health and we can have them throughout the year, any day we want.
Also once you learn what you like and what you don't about these meals you can change and adapt them to you and your family's taste. Feel free to add other healthy ingredients and raw foods to keep you going all day!
Related Articles