If a nice warming meal packed with hearty vegetables over rice sounds good to you about now, you'll surely like our Sweet Potato & Chickpea Tikka Masala recipe. Many of these types of recipes are quite rich but our version takes in all the wonderful flavors and spices without the heavy cream.
Don't let the sizable list of spices scare you off making this dish, as you likely have many of them in your cupboard already and it's well worth the small bit of effort! You can even mix up a second batch of just the spices to store in a jar for next time, saving you the extra work. If you don't have many of these spices on hand, consider stocking up on them as they are all important ingredients in adding flavor, nutrients and heartiness to many healthy dishes.
One such spice that is part of this Sweet Potato & Chickpea Tikka Masala recipe is fresh or ground chili. Chili boasts an impressive list of health benefits such as being a natural inflammation fighter, pain reliever, aid to cardiovascular health, effective in clearing mucus, immune system booster, aid in controlling cancer growth and lots more!
Red chili peppers' capsaicin, the compound responsible for their pungent heat, stops the spread of prostate cancer cells through a variety of mechanisms, indicates a study published in the March 15, 2006 issue of Cancer Research. Capsaicin triggers suicide in both primary types of prostate cancer cell lines, those whose growth is stimulated by male hormones and those not affected by them. In addition, capsaicin lessens the expression of prostate-specific antigen (PSA), inhibits the ability of the most potent form of testosterone, dihydrotestosterone, to activate PSA, and directly inhibits PSA transcription, causing PSA levels to plummet. Worlds Healthiest Foods
Furthermore, chilis contain an impressive list of vitamins and minerals essential to our health, including vitamin A, vitamin B-6, vitamin C, iron, copper and potassium, according to Nutrition and You. The beauty is that fresh chilies are readily available in most grocery stores and when they aren't in stock, go with chili powder. Both are easy to work with and fairly inexpensive.
Click here for printable version of this recipe!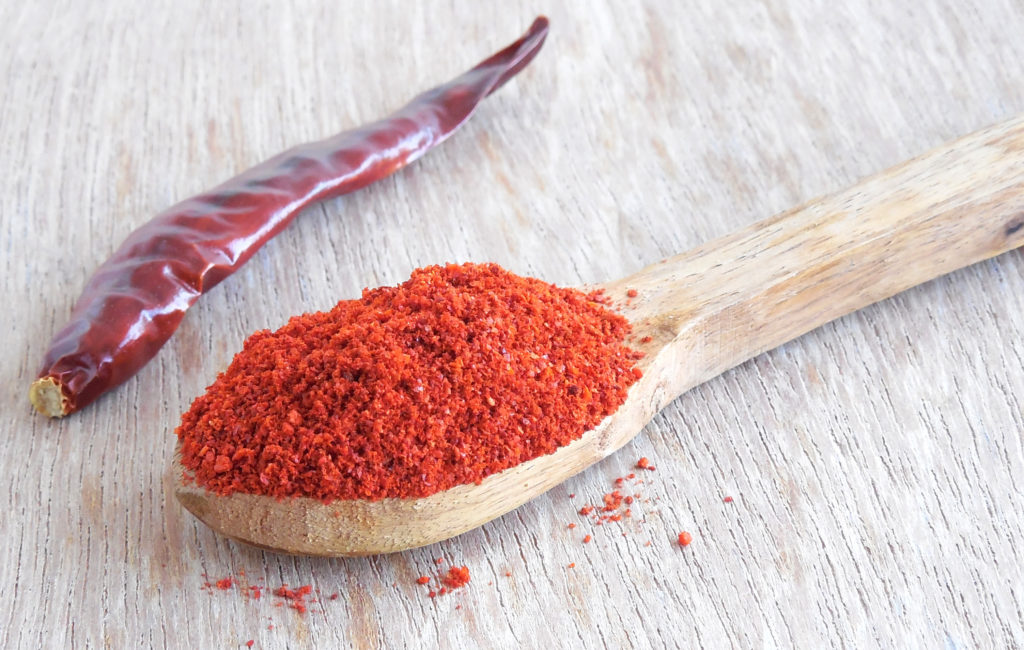 Sweet Potato & Chickpea Tikka Masala Recipe
Ingredients
4 sweet potatoes
2 tbsp coconut oil
1 onion
2 medium-hot chilis or ¼ tsp chili powder (or less for mild version)
2 cloves garlic
1 thumb fresh ginger
1 red pepper
1 bunch fresh cilantro
1 tsp cumin powder
¼ tsp cayenne powder (or less for mild version)
1 tsp cilantro seed powder
1 tbsp smoked paprika powder
2 tbsp tomato paste
1 ½ cup stewed tomatoes
½ can coconut milk
2 tbsp ground almonds
3 tbsp natural yogurt
1 can drained organic chickpeas
Method
Chop sweet potatoes, coat lightly in ghee or grass-fed butter and roast in the oven for about 30 minutes.
Meanwhile, heat coconut oil in a pan on low heat and add in chopped onions. Sauté briefly then add in fresh chilis, (wait until adding other powdered spices if using powdered chili), red pepper, garlic, ginger and cilantro stalks (save leaves for later). Stir for about 4 minutes.
Add in all powdered spices and mix well to coat.
Add tomato paste and stir well.
Remove from heat and add stewed tomatoes and coconut oil. Now cooled, add the mixture to a food processor or blender and blitz until smooth.
Return to the pan and heat on low adding the roasted sweet potatoes and chickpeas.
Right before serving, add in ground almonds and yogurt and stir through well.
Serve over fluffy hot brown rice and sprinkle with cilantro leaves.
Enjoy!
Source: Saving the Green