We have a lot to live for. But are we doing everything we can to extend our life expectancy? A healthy lifestyle can improve your health, your quality of life and also extend your life expectancy.  
Many of you already know how to maintain good health. But very few of us take even some of the basic steps to protect our health. As we grow older, we get weaker, and so, we need to be more cautious about our health. We will discuss some of the basic health tips to help you live longer.
1. Go for a Walk
Nothing is healthier than a little walk. All you need is 30 minutes of brisk walking, three times per week to reap health benefits. It doesn't matter how old or young you are or what your fitness level is, walking can almost always improve your health.
Here is what an expert says about the benefits of walking:

"Basically reverse your physiological age by about ten years, says Gareth Jones, director of the Canadian Centre for Activity and Aging in London." – Best Health
2. Eat More Fish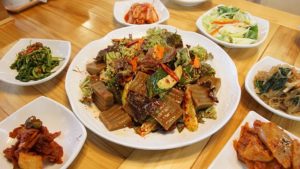 Eating healthy is an essential part of a healthy lifestyle. Micronutrients and omega-3 fatty acids can lower your risk of heart disease, lower your blood pressure and detox your body. Eat fish at least twice a week and your risk of heart attack will decrease by more than a third.
3. Start Weight Training
Weight resistance training is one of the healthiest ways to control muscle loss later in life. Weight training will strengthen, tone and increase your muscle mass, cut your body fat and reduce risk of many diseases including high blood pressure, heart attack and help you retain your bone density. It's also an effective weapon against stress and anxiety.
4. Get Enough Rest
Lack of sleep can complicate your health issues. Sleep deprivation is often linked with reduced immune response, anxiety and stress. Get enough sleep and take a break from work when you're too tired. Avoid over working, plan out your day, and relax. Make sure to take breaks, often.
5. Do Something Fun
Those who are bored are more likely to fall victim of heart disease and stress. Go out and do something fun. Things like spending time outdoors have been found to boost your mood, and lift up your spirit. Enjoy your time with friends and family and enjoy a healthier and longer life. Once-in-a-while, take a long vacation, as it will also help you clear your head and "reset" your mind, body and spirit.
6. Regular Doctor Visits
Make sure to schedule regular doctor visits and a physical checkup. Your doctor can assess your physical condition and detect disease ahead of time. Early detection of disease, especially potentially life threatening diseases, will add years to your life. Being aware of what changes you need to make in your life before an ailment gets too progressed is a great way to improve your longevity.
7. Add supplements
Supplements supply you with essential nutrients that are often absent from your daily meals. It's a way to make sure that you receive all your necessary vitamins, and minerals. They are also essential for detoxing your body. They give you extra energy and vitality to fight off disease naturally.
To boost your immune system, a proper diet and a healthy lifestyle is necessary. However, as we grow older, we may need to supplement our immune systems with bio-identical proteins. Click here to learn more about Bio-Pro Plus with bioidentical thymic proteins to the ones your body stops producing later in life.
8. BONUS – Eat More Plant-based Foods
We wanted to give you this bonus #8 because of how strongly we feel that a wholefoods diet full of plant-based foods is essential to good health!
Your body is constantly rebuilding itself and the necessary nutrients required to perform daily functions come from the foods you eat. If you're simply eating to feel full and neglecting the nutritional needs of your body, you will eventually get sick… it's that simple.
Our friends at Happy Happy Vegan have some great healthy eating tips which can be particularly helpful to you if you have extra weight you struggle to lose. Check out their healthy weight tips.
To extend your life expectancy and add years to your life, just follow these simple rules. Get rid of your bad habits and follow these simple health tips and you're sure to see improvements in your health within weeks. Healthy living is a habit that you practice regularly, so stay positive and stay healthy!
P.S: To learn more, please subscribe to our blogs. You can also ask your health questions directly if you join us on our next live webinar!
Source: Alternative Health Concepts
Related Articles and Resources: