Are you a great fan of beans or looking for the right inspiration to get you to eat more of them? Either way, you've come to the right place! We hope to share with you both the health benefits of eating more beans and a delectable recipe to entice you.
However you feel about beans, they are a great source of protein, antioxidants and reduce your risk of heart disease. They have even been shown to aid in preventing some forms of cancer and can help to reduce symptoms of menopause.
Eat them regularly as a delicious addition to salads, burgers, stir-fries, dips and more.
We often think of them as great choice for a meat-free alternative but also consider them in place of some carbohydrates. Compared to grains, beans provide a similar amount of calories but contain 2 to 4 times the protein, making them a good choice for controlling blood sugar.
The list of benefits goes on…
"Eating one daily serving (3/4 cup) of legumes was shown to reduce LDL, or "bad", cholesterol levels by 5 percent, according to a new meta-analysis of 26 trials published in the Canadian Medical Association Journal." Everyday Health
Now that we've shared just a few of the health benefits of beans, all we have to do now is give you a scrumptious way to prepare them!
Click here for a printable version of this recipe!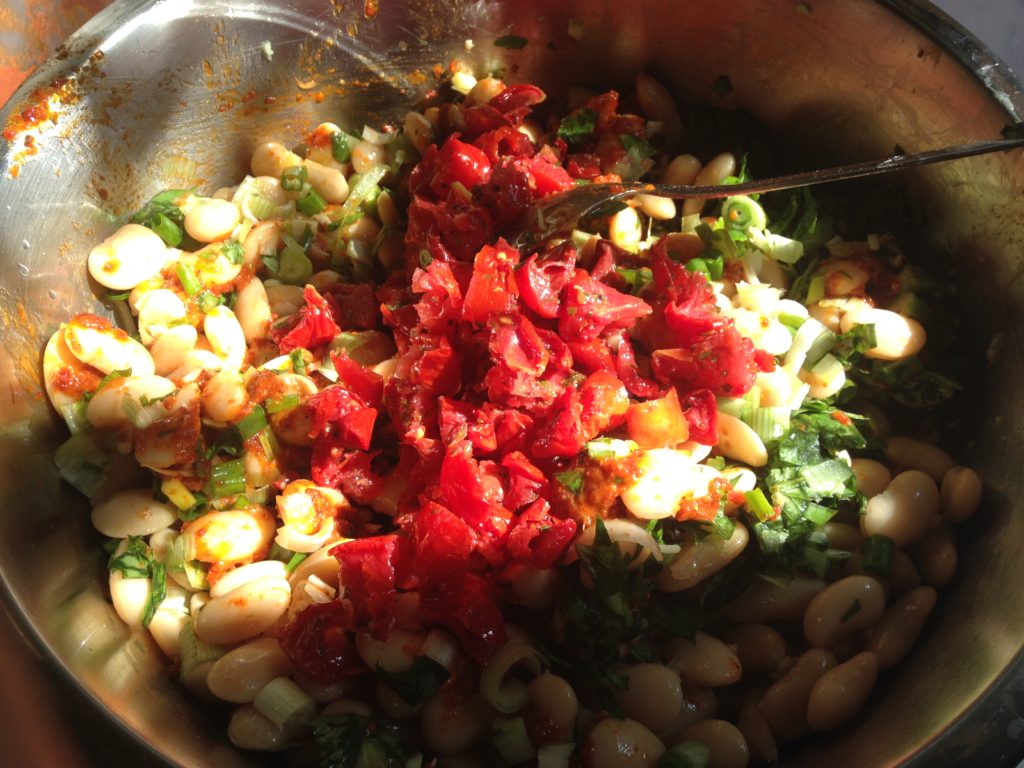 Ingredients
1 can or equivalent of your favorite dry bean, soaked and cooked
2 scallions, chopped finely
Handful of fresh basil, chopped
1 clove garlic, crushed
1 cup semi-sundried tomatoes and oil
1 heaped dessert spoon of smoked semi-sundried tomato paste
Extra Virgin Olive oil to drizzle
Pinch sea salt
Method
Place the prepared beans in a bowl and combine with chopped scallion, basil, garlic, semi-sundried tomatoes with their oil, smoked semi-sundried tomato paste and stir together to coat the beans well.
Grind a pinch of sea salt in a grinder or between your fingers and stir.
If the oil from the semi-sundried tomatoes doesn't sufficiently coat the mixture, add a few drizzles of extra virgin olive oil.
Serve immediately or, ideally, chill for an hour or more to allow all the flavors to combine.
Click here for a printable version of this recipe!
Source: Saving the Green
Related Articles & Resources